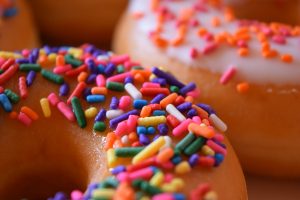 A new doughnut shop is close to getting approval from town leaders to open up shop in Argyle.
The town's Planning & Zoning Commission last week voted unanimously to recommend approval — with a few minor conditions — of Sprinkle Donuts, a proposed 1,200-square-foot doughnut shop in a vacant space on Hwy 377, just north of Denton Street. The applicant is requesting a few minor variances from town ordinances.
The applicant, Jahvani Consulting Engineers, and the property owner, Byang Moo Yoo, had brought a similar proposal for a 1,500-square-foot doughnut shop to P&Z in spring 2016, but it was later denied unanimously by Town Council.
The shop's proposed site plan will now go to Argyle Town Council for approval, perhaps as soon as the council's next meeting on March 27.
There is one doughnut shop already in Argyle, Donut Paradise, located in the shopping center in the southeast corner of Country Club Road and Hwy 377.