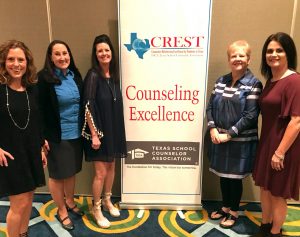 Five Lewisville ISD schools in Flower Mound have received an award for excellence in school counseling.
The schools received a CREST (Counselors Reinforcing Excellence in Texas) award for counseling from classroom guidance and college and career readiness to equipping students with the social and emotional skills necessary to be successful in and out of the classroom, according to a LISD news release.
Among the 11 LISD schools that received the award, including these five in Flower Mound: Garden Ridge Elementary School, Downing Middle School, Lamar Middle School, Flower Mound High School and Marcus High School. Downing and Marcus also received the award last year.
CREST, which was launched in 2005 and is sponsored by the Texas School Counseling Association, is described on its website as a "continuous improvement document that school counseling programs can use to demonstrate effective communication and a commitment to obtaining results."
"The criteria to receive the honor is reflective of the standard set by the Texas Counseling Association," said LISD Guidance and Counseling Director Monya Crow in a prepared statement. "It means that a school counseling program is operating at best practice, serving its students, staff and community."
All Texas schools are eligible to pursue the CREST application process. This year, 69 schools from across the state were honored with a CREST award. Schools are evaluated in seven categories: principal's comments, school counseling advisory council, school climate and safety, student results, major achievements, community partnerships/resources and parent collaboration.
Prior to joining LISD, Garden Ridge Elementary (GRE) counselor Emily Mennsfield said she served on the TSCA Board of Directors and was familiar with the importance of the CREST award. With the support of her principal Kelly Roden and campus, Mennsfield said she was able collect the data and information necessary to submit an application, according to the news release.
"Being recognized with a CREST (award) will help to promote all of the great things going on at our school to our community, our district and our state," Mennsfield said. "It is truly an honor to be recognized with the other schools who received the CREST and I'm proud to be one of the campuses in LISD to have received the award."
CREST winners were recognized at an awards dinner during the TSCA conference on Feb. 18 in Galveston.