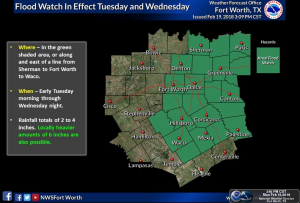 The National Weather Service has issued a flood watch for much of Dallas-Fort Worth, including southern Denton County, from Tuesday morning through Wednesday night.
According to the weather service forecast as of Monday afternoon, storms are expected to develop in the Hill Country and West Texas before moving through DFW between 1-4 a.m. Widespread rainfall accumulation is expected to be 1-2 inches by the time the rain temporarily ends late Tuesday morning, but isolated pockets could reach more than 3 inches.
More rain and storms are expected Tuesday afternoon and evening, which will increase flood concerns.
Heavy rain should continue through Wednesday and slowly diminish during the overnight hours, so flooding is expected to be an issue through then.
Up to 6 inches of rain in certain areas is possible, but the mostly likely amounts throughout DFW are 2-4 inches.