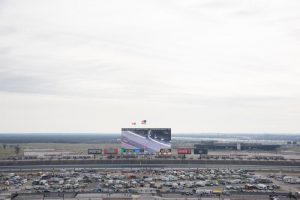 The 2017 Daytona 500 Watch Party brought more than 3,000 campers and tailgaters to the Texas Motor Speedway.
Texas Motor Speedway will again host its "World's Largest" Daytona 500 Watching Party in a few weeks, and it intends to make the event bigger this year.
Last year, the event attracted more than 300 RVs and more than 3,000 campers and tailgaters to the speedway's infield for NASCAR's signature race, the Daytona 500 at Daytona International Speedway, according to a news release. NASCAR fans watched the race live on the world's largest HDTV, the 12-story tall "Big Hoss."
The speedway will open its infield Feb. 17-18 for racing fans to camp or tailgate for free, and lots of additional entertainment is planned for the weekend: free Chevrolet Camaro pace car rides around the track, a cornhole tournament, campsite and tailgate area decoration competition, promotions and live remotes from 95.9 The Ranch and Hank FM, and a screening of the NASCAR-themed movie "Talladega Nights" on "Big Hoss" at 7 p.m., according to the news release.
O'Reilly Auto Parts will provide gift cards to the top-three finishers in the cornhole tourney, as well as gift cards and trophies to the best decorated campsite and tailgate areas. O'Reilly Auto Parts also will provide tailgate goodie bags to the first 500 attending the weekend event.
Fans can even ensure they have the best seat and camping spot available for races at TMS in 2018 as speedway ticket representatives will be on hand to provide interested fans a guided tour and allow them to make their seat or camping selection in person.
Fans are permitted to bring their own food and beverage to the infield.
Those interested in camping or tailgating must RSVP here before Feb. 11. Spots are available on a first-come, first-serve basis. For a complete Daytona 500 Watching Party schedule, click here or download Texas Motor Speedway's free mobile app.