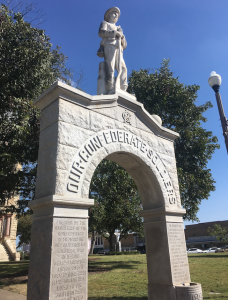 A committee considering moving a Confederate monument from the Denton Square plans to make its recommendation to the Denton County Commissioners Court soon.
In the fall, the court created the Denton County Confederate Monument Committee to research the history behind the monument in the Denton Square. That committee will convene for a meeting Thursday morning and a public forum that night before deciding what action to recommend to the county commissioners.
The committee will either recommend the monument stay where it is, on the south side of the Denton County Courthouse-on-the-Square, with historical context added, or moved to a different location and have context added. Committee Chair John Baines said the possible new location hasn't been determined yet.
Baines said that in Thursday's committee meeting, the 15 members will listen to a few more speakers and they will be talking about formulating final arguments.
Later Thursday, the committee will get residents' input at another public forum from 6-8 p.m. at the Steven E. Copeland Government Center, 1400 FM 424 in Cross Roads.
Next week, the committee plans to "come up with a recommendation" and present it to the county commissioners on Feb. 1, Baines said. The court asked the committee for a consensus recommendation, not an 8-7 vote.
"Hopefully our three months will not have been in vain and we consensus, or at least a super majority," he said.
Baines said he has learned new things will serving on the committee, and having 15 people on it has been beneficial.
"A lot of things have come across the table I never heard or never considered," he said. "The 15 people come from different vantage points, and everybody has different colored glasses. It's been reformative, in that regard."
Pressure escalated to move or remove Confederate statues and memorials across the country in August, after the deadly confrontation between a group of white nationalists — who were protesting the movement of a statue of Robert E. Lee — and counter-protestors in Charlottesville, Va., according to the Associated Press.
Later in August, many people spoke at the Denton County Commissioners Court meeting, urging the commissioners to move the Confederate Soldier Memorial away from the courthouse. Generally, those who want monuments and statues moved, or removed, believe they honor or glorify a political movement that proposed the continuation of enslaving African-Americans.
"We've heard from a variety of residents [on both sides of the issue]", Precinct 4 Commissioner Andy Eads said.
It's the only Confederate monument in Denton County. The Daughters of the Confederacy erected it in 1918.
A nearby plaque explains the monument to be: "a reminder of historic events and is intended as a memorial to Denton County citizens who sacrificed themselves for the community. Now, let this be a testimony that God created all men equal with certain inalienable rights. We are all one, citizens of Denton County."
The text on the monument itself says it is: "in memory of our confederate soldiers, who in heroic self-sacrifice and devoted loyalty gave their manhood and their lives to the South in her hour of need."