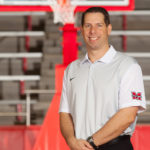 The head boys basketball coach at Marcus High School, Clay Cody, has been named the new assistant athletic director for the Lewisville Independent School District, according to a district news release.
Cody will finish the season as MHS' basketball coach, and then the district will begin looking for a replacement, according to the district.
"I am so excited about the opportunity to serve Lewisville ISD in the position of Assistant Athletic Director," said Cody, who has been a teacher and coach at Marcus since 2012, in a prepared statement. "I have been blessed to be able to teach and coach at Marcus High School the past six years and serve the students and community members.  The chance to serve all of Lewisville ISD's students and communities is an opportunity of a lifetime. I am excited to begin this new chapter."
Cody began his coaching career in 1997 in Boerne ISD as a varsity basketball assistant coach and middle school football coach, according to the news release. He made stops as an assistant coach at Arlington Heights High School and Crowley High School before earning his first head coach position at China Springs High School in 2004. He served as head coach at La Vega High School 2005-2012 before being named head coach at Marcus in 2012.
Cody earned a bachelor's degree from Hardin Simmons University and a master's degree from The University of Texas at Arlington.