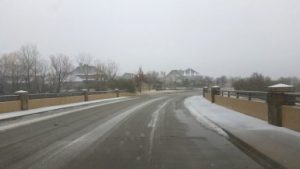 A touch of sleet and snow is likely tonight. The question is, will it affect your commute tomorrow morning?
A strong cold front will move through Denton County from north to south this afternoon. Behind the front, light rain will change to a wintry mix as temperatures fall below freezing.
Light freezing rain may occur before changing over to sleet and snow during the evening hours. The precipitation should change over to all light snow overnight, then clear out of our area on Tuesday morning.
Less than a half inch of accumulation is expected, but it doesn't take much to create a skating rink on roads and sidewalks.
Did we mention that it will be very cold? Temperatures will plummet into the 20s and stay there all day Tuesday, dipping into the single digits on Wednesday morning.
As with any forecast, things can change quickly, so please check back for updates and follow us on Twitter for frequent weather updates.