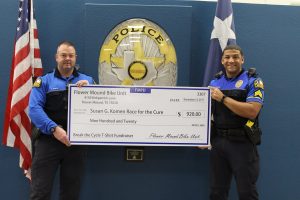 The Flower Mound Police Department's bike unit raised more than $900 for breast cancer research in a fundraiser earlier this year, the department announced Wednesday.
Flower Mound residents supported the bicycle unit's "Break the Cycle" T-shirt fundraiser and donated $920 to the Susan G. Komen Foundation, which supports breast cancer research, health outreach, and advocacy programs in more than 60 countries. The T-shirts were donated by Mark Loser and Six Stitch Apparel.
The department shared a photo of the bike unit's big check for the Susan G. Komen Foundation on its Facebook page Wednesday afternoon. It said next year's bike unit fundraiser will take place in September and will support Children's Medical Center.