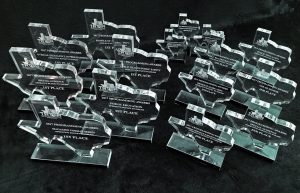 The town of Flower Mound's Communications Department is the most-awarded municipality at a state conference for the second year in a row.
The town communications team received 15 awards, including six first-place awards, recently at the Texas Association of Telecommunications Officers and Advisors annual conference, according to a town news release on Tuesday.
Flower Mound was the most-awarded town or city of the state conference for the second consecutive year, and it set a new record for the most TATOA awards staff has received in a single year. Flower Mound took first place in Overall Excellence in Programming award, which takes into account all of the town's video projects.
 Other first place video project awards include:
Public Health/Public Safety – Beyond the Badge
Public Education – Making the "Ruff" Decisions
Profile of an Organization/Department – Our Calling: Flower Mound Fire Department
Special Audience – Tipline Bling
Magazine Format Series – Town Matters
The town also received six second-place awards and three third-place awards for other video projects. Watch all the award-winning videos and more by subscribing to the Town of Flower Mound YouTube channel.