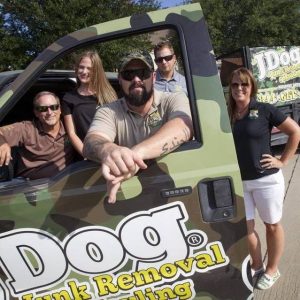 For one local company, Veterans Day this weekend has a special meaning and importance.
When Toni and Brian Hennigan's son, Casey, returned home from two active tours in the Army, he found it hard to find meaningful work due to a shortage of opportunities and the lack of trust that developed from his time overseas.
"Many veterans are apprehensive to go out into the community because they don't always see support for the military," Toni said. "It's different, like walking into a new world."
Toni said Casey worked in oil fields and as a truck driver, but "he felt like he was constantly bouncing around."
So the Hennigans began looking into businesses that could involve their whole familyand came across JDog Junk Removal & Hauling, the only U.S. Military-branded company and franchise offered exclusively to veterans and their families, according to a news release. The Hennigans purchased the franchise in December 2015 for the Northeast Tarrant County territory. They recently purchased the Roanoke/Flower Mound territory, too.
Jdog provides residential and commercial junk removal, residential and industrial clean-outs, donation clean-outs, recycling and other similar services. You may have seen the Hennigans' team on HGTV's "Texas Flip and Move" and "Flipping Fort Worth."
The business is geared toward hiring veteran employees, but military service isn't mandatory. The company's goal is to provide local communities with service based on respect, integrity and trust – values instilled in a military career, according to a news release.
"Our team is very respectful and disciplined in how they do work," Toni said. "It can be attributed to their military training."
Naturally, Veterans Day takes on a special meaning to the company. Toni said the company dedicates time throughout the month to meet other businesses owned by veterans.
"We don't focus on JDog on Veterans Day," Toni said. "We get thanked enough. We want to thank others."
JDog gives its employees the day off on Veterans Day, but they typically choose to participate in the Veterans Day parade in Grapevine, Toni said.
"It's a day to reach out and thank other veterans and appreciate their service," she said.