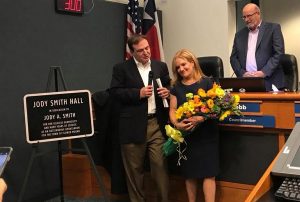 How many people do you know who contribute to their community in myriad ways and never brag about it? Perhaps it's just human nature to want recognition for the things we do. On the other hand, when generosity outweighs the need for personal credit it's easy to conclude that we're looking at a true philanthropist. I have enormous admiration for those few people who will eschew the limelight in favor of anonymity, even when their charitable deeds are worthy of acknowledgment on a grand scale. If you have one or more of these people in your orbit you are blessed beyond measure.
At Monday night's Town Council meeting a special presentation was held to honor such a person. Former 3-term Mayor Jody Smith, who was totally unaware of the plan organized by members of the Council and several others in the community, was showered with well-deserved kudos from numerous organizations and people she has helped over the last couple of decades. Mayor Tom Hayden and the entire Town Council planned the ceremony very carefully, making certain that Jody would be present at the meeting, while not knowing the subterfuge used to get her there.
Elected officials that attended the ceremony included Texas State Senator Jane Nelson, Texas House Rep. Tan Parker, Denton County Commissioners Bobbie Mitchell and Andy Eads and Highland Village Mayor Charlotte Wilcox. Erik With, District Director (26th District) for Congressman Michael Burgess was also present and introduced a video presentation by the congressman in which Dr. Burgess thanked Jody Smith for her many years of service to Flower Mound and its environs.
To conclude the ceremony, Mayor Hayden unveiled a plaque with a commemorative inscription as he announced that the new Town Hall Chambers would be named after Jody Smith. Ms. Smith was close to tears as she watched the Town Council members vote yes for the proposal, providing unanimous agreement. Jody's family was in the front row to be part of this memorable occasion. In addition, the chamber room and the foyer area were filled to capacity as applause erupted numerous times during the presentation. Never was anyone more deserving of so many standing ovations as this marvelous woman who has done so much for so many. We are fortunate indeed to have Jody Smith in our community! She is an angel who has earned her wings many times over!
Bob Weir is a former NYPD officer, long-time Flower Mound resident and former local newspaper editor.