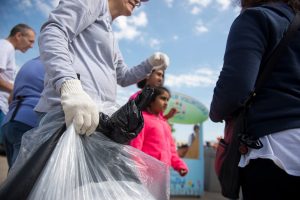 Hundreds of Flower Mound residents turned out last weekend to help clean up the town.
Nearly 400 volunteers came together on Saturday to get their hands dirty for the Keep Flower Mound Beautiful Trash Bash and Environmental Fair, according to a news release from the town of Flower Mound.
The volunteers collected more than 3,000 pounds of waste and nearly 1,300 pounds of recyclable material in a few hours.
At the environmental fair, 20 booths provided residents with information on tips to save energy, conserve water, recycle and more. Nearly 8,000 pounds of paper was shredded and recycled, according to the town.
Click here for more information.