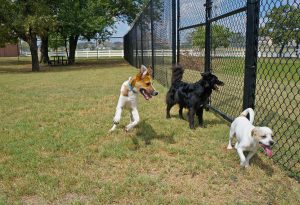 The Flower Mound Animal Adoption Center has expanded its outdoor pet recreation area after receiving a large donation from a local group of residents.
The Flower Mound Citizen Police Academy Alumni Association donated $15,000 to create a new outdoor play space that is triple the size of the previous outdoor play area, according to a Facebook post by the town of Flower Mound on Thursday.
The new play yard is lush with native shade trees, natural grasses, and plenty of room for pets to run off-leash while awaiting adoption. It is surrounded by an eight-foot fence with coyote rollers, which keep pets inside and wildlife outside.
The project, which cost a total of $17,000, cost taxpayers nothing, according to the town's Facebook post. The excess $2,000 was provided by the Animal Care Fund, which is comprised of donated funds.