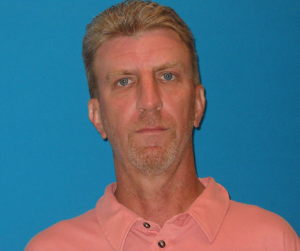 When Flower Mound police were called to a report of a man pointing a gun at a cyclist, they found the suspect was impersonating an officer with a fake badge and an SUV made to look like a police vehicle, according to a police probable cause affidavit.
A cyclist called police late the night of Aug. 10 to report that a man in a dark SUV pointed a firearm at him near the corner of Cortadera Street and Cortadera Court, a residential area in the northeast corner of Morriss Road and FM 1171 near the suspect's home.
The caller told police that as he was riding his bicycle, he passed a dark Chevrolet Tahoe that was parked in the road with its hazard lights, and the driver pointed a gun out the window at him, according to the affidavit. The cyclist, fearing for his life, didn't stop immediately, but then started arguing with the man in the SUV, later identified as Matthew Joseph Hrebin, 51.
At some point, the cyclist told Hrebin that he was going to call 911, and then Hrebin pointed a flashlight at him and said, "I am a police officer and you need to leave the area."
As Flower Mound police officers responded to the cyclist's 911 call, one of them saw a black Chevrolet Tahoe that matched the caller's description and pulled it over in the 2300 block of Olympia Drive, according to the affidavit. Other officers arrived and helped detain the driver, who was alone.
Police identified the driver as Hrebin and they found a fake police badge in his wallet. The badge appeared to be made out of paper from a Flower Mound police recruitment brochure.
When asked, Hrebin told police that he was given the brochure about two weeks earlier when he applied to be a FMPD detention officer. He admitted to cutting the badge insignia out of it and fashioning it to fit with the clear plastic sleeve in his wallet.
"Hrebin's only explanation was because he was 'bored' and was being 'silly,'" the affidavit said.
Police searched the vehicle and found a black AR-15 replica BB gun that "appeared to look no different from a real rifle" commonly used by law enforcement, according to the affidavit. He told police he commonly carried BB guns in his vehicle because he used them for target practice at his mother's home.
Hrebin told police he also had a BB gun pistol under the driver's seat, but police didn't find any other firearms or BB guns in the SUV. They did find, however, two knives, a large MagLite flashlight commonly used by police, a small baseball bat and what appeared to be a small police light.
When asked to describe the incident that prompted the 911 call, Hrebin told police he was sitting in his parked SUV near his home and the cyclist rode past and started shouting profanities at him for no apparent reason, the affidavit said. An argument ensued, and Hrebin told police he pointed his flashlight at the cyclist, not a firearm or BB gun.
The Tahoe, a common police vehicle, also had dark-tinted windows, spray-painted black rims and three police insignias on the windows. Hrebin told police he fashioned the same FMPD recruitment badge logo to his vehicle to prevent people from breaking into it.
It was unknown if Hrebin has ever been a police officer, said a police spokesman. He was booked into jail on suspicion of impersonating a public servant, deadly conduct and false ID as a police officer.