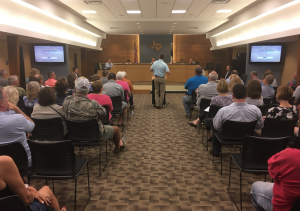 The Argyle Planning & Zoning Commission recommended denial of the controversial proposed development Lochlan of Argyle.
The developing company, Terra Manna, brought a plan to the Planning & Zoning Commission in August that included nearly 700 homes and 20 commercial buildings on a 333 acre lot in the northeast corner of FM 407 and Interstate 35W.
The plan was greeted with strong opposition from residents, who believed the town's infrastructure and FM 407 would not be able to handle such an increase in population, and they also said they believed the plan, with its many patio homes and small lots, didn't fit in with Argyle's rural culture.
Commissioners noted several issues with the plan during the August meeting. They said they did not want so many small lots right up against the north and east property edges they thought the residential areas were too dense, among other changes. They tabled the issue until Tuesday's meeting, for which the developers said they would revise their plan.
On Tuesday night, Terra Manna presented its new plan, which was redesigned to add commercial space and reduce the number of lots from 695 to 537, increasing the lot size for many homes. But it kept hundreds of its lot sizes below 7,200 square feet, including 58 patio homes, which Argyle residents spoke most strongly against.
Dozens of residents filled up most of the council chambers in opposition to the proposal plan on Tuesday, and many spoke against it during the public hearing. After a short discussion, the commission voted unanimously to recommend that Town Council deny the proposal.
Manna Terra representatives could not be reached for comment about their plans for the proposal, but Matt Jones, Argyle Town Manager, said Thursday that the Lochlan plan is scheduled to be on the Sept. 26 Town Council agenda.