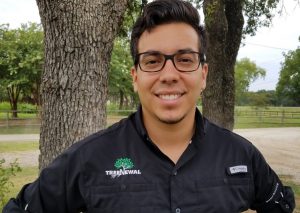 Jorge Gaona, owner of TreeNewal, is a student at the University of North Texas maintaining a 3.8+ GPA. After working for the past 15 years for a family landscaping company and developing a passion for sustainable development, Gaona said, "I saw an opportunity to create my own business that would help customers fulfill the need of saving their distressed trees."
Trees can be the focal point of any residence or business, however trees in urban environments require more care than in nature. The lifespan of these trees are often much shorter due to stressors such as soil compaction, root cutting, or watering issues. The only solution before was to replace the trees after they died. This can cost a homeowner or business thousands of dollars.
The solution: TreeNewal, a tree care company that specializes in helping distressed trees flourish by solving tree issues at the source, the roots.
"We use a root aeration process with a patented IBA pellet used to promote cell division in root hairs." Gaona said. This helps trees and their root systems by optimizing their ability to intake water and nutrients. TreeNewal works to help trees reclaim their health, rather than removing them.
"Moreover, it was also a chance to give back to the world around me," Gaona said.
Giving back is an important cornerstone of TreeNewal. Aside from saving the trees of North Texas, for every tree that TreeNewal treats, a tree is planted through the National Forest Foundation. To date, TreeNewal has donated over 200 trees to national forests across America.
If you believe your trees to be under stress, you may contact TreeNewal through their website, by phone (817-680-4791), or email ([email protected]).
"We have an ISA certified arborist on our team who can complete a total tree care assessment," Gaona said. "This will ensure that the trees on your property are given the best possible care."