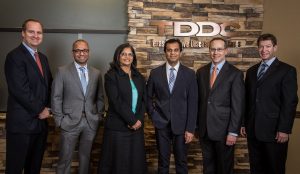 Texas Digestive Disease Consultants (TDDC) Flower Mound has been treating the community of southern Denton County since 1995. The office's doctors, nurses and staff are proud to be a part of this community with several having worked in the office for as many as 15, 19, and even 22 years.
What sets TDDC Flower Mound apart are the six board certified gastroenterologists eager to put patients' minds at ease through their unique combination of medical expertise and personal care. This distinction is what makes them the standard of excellence for compassionate and high-quality digestive care in the area.
The physicians are known for comforting patients and thoroughly educating them about their conditions and situations. They take an interest in their patients: spending time talking to them, getting to know them, and letting them be a part of the decision.
"We are very proud of our physicians and professional staff and are ready to serve you and address your concerns involving the digestive system," said Dr. James J. Weber, president and CEO of TDDC.
For patients who are more comfortable seeing a female physician, the team of physicians at the Flower Mound office includes Dr. Anita Steephen, Board Certified in Gastroenterology.
TDDC Flower Mound provides the full spectrum of care for patients with concerns involving the esophagus, stomach, small bowel, colon, rectum, gallbladder, pancreas and liver.
Some of the general procedures performed include colonoscopy, upper endoscopy EGD and capsule endoscopy. The most common among them being colonoscopy, which detects and can help prevent colon cancer. Colon cancer is the second leading cause of cancer deaths in the United States and everyone should have a colonoscopy screening at the age of 50; however, if you have had a family history of colon cancer, or had polyps removed before, you may need to be screened earlier.
The office also performs advance procedures, such as endoscopic ultrasound and endoscopic retrograde cholangiopractreatigram, which allow for diagnosis and treatment of complicated conditions such as pancreatic cancer, billiary strictures and bile duct stones. Dr. Nishant Patel, TDDC Flower Mound's newest physician, completed an additional year of specialized training in advanced therapeutic endoscopy to perform these advanced procedures.
TDDC also offers the latest in gastrointestinal technologies, such as the new pill camera endoscopy, which provides the ability to painlessly find previously undetected problems of the small bowel.
Texas Digestive Disease Consultants, the largest GI group in the country, is involved in national research and clinical trials and has grown to have more than 40 locations throughout the state, giving it a large integrated network and geographic footprint. With those resources, it provides specialized care at each location, creating a personal connection with patients and providing them with the best possible care in a comfortable environment.
The Flower Mound office is conveniently located at 4370 Medical Arts Drive, Suite 295, and is affiliated with Lone Star Endoscopy and Texas Health Presbyterian Hospital Flower Mound.
The office staff is dedicated to providing short wait times and believes in putting the patient first. Callers will always be able to reach a real person for assistance and there are no automated systems or voicemails during office hours, providing a human touch that other medical offices lack these days.
The Flower Mound office has high patient satisfaction ratings and it is well-reviewed for how polite staff members are, how comfortable patients are made, and how smoothly it runs.
Heather Shaw, the Flower Mound office manager, enjoys hearing feedback from patients so she can continue to provide a positive patient experience at the office.
To contact Texas Digestive Disease Consultants Flower Mound call 972-691-3777.  The office hours are from 8:30 a.m. to 4:30 p.m. Monday-Friday. For more information about Texas Digestive Disease Consultants, visit www.tddctx.com.