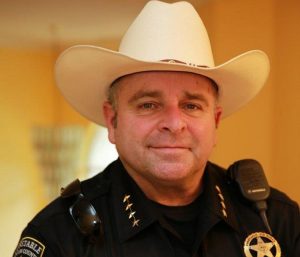 by Constable Tim Burch, Denton County, Precinct 4
My wife Candace and I were very fortunate to be able to attend the Official Presidential Inauguration Festivities and Ball in Washington D.C.
This was a once in a lifetime 'bucket list' item for many people.
As this was Candace's first opportunity to visit out Nations Capitol, she was awe inspired by the dynamic presence of major history and important activities that occur in this great place.
I want to emphasize we are getting closer to the 2017 Medal of Honor Motorcade event, and if there are any questions in regards to participation or the viewing of this event, please contact me to get involved.
Since my last article, I have been contacted by numerous residents in regards to becoming foster parents in Denton County. I urge anyone interested to contact Child Protective Services to address those needs.  Unfortunately there is a growing concern for the lack of qualified and available applicants to become foster parents.
There is an upcoming date to be celebrated and that is the first grand opening of Kyle's Place, Denton County's first accompanied youth shelter.  I look forward to the grand opening of Kyle's Place in April to service the needs of our growing number of disadvantaged youth.  For more details, visit www.journeytodream.com.
With respect to our local enforcement community, I would like to ask for your prayers and support for Double Oak Police Officer Michael Wyman and his family, as his wife passed away on Feb. 26.
We are also very saddened by the recent loss of Detective Jerry Walker with the Little Elm Police Department, whom was tragically slain while attempting to arrest a barricaded subject.  There has been an overwhelming support for his family from the general public, business community, law enforcement, the public safety sector, and celebrities.  Fundraising efforts have been most successful to help ensure his family will be taken care of in the future.
There is still ways to contribute to those efforts, and if you choose to do so contact me to find out how you can provide assistance.
Detective Walker was well respected and loved throughout the community, school district and the law enforcement arena.  Please when reading this article, take a moment of silence in respect of Detective Jerry Walker, may his soul rest in peace.
In the upcoming local and school board elections, I encourage candidates who are seeking re-election or new office holders to run on their merit and what they hope to bring to that respective office and to not involve themselves in political rhetoric.
This country was built on Judeo-Christian beliefs, and it is shameful to see candidates for office and their attempts for election to seek to destroy inadvertently an opponent's character and reputation.
With the expanding population growth within Denton County and Precinct 4 in particular, my department will be more visible than ever with their assistance to the local law enforcement community and by providing patrol and community policing within those areas of jurisdiction.