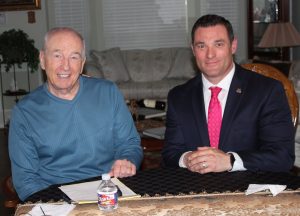 Denton County's 211th District Court is presided over by Brody Shanklin, a former police officer who worked for the Fort Worth Police Department from 1995 to 1999. He received his Bachelor Degree in Criminal Justice at Stephen F. Austin State University and his Juris Doctor degree at Texas Wesleyan University School of Law (now known as Texas A&M School of Law). Subsequently, he worked as an attorney for Chris Harris & Associates – State Senator Chris Harris' office.
Later, he worked as an Assistant District Attorney in Denton County for six years. In 2007, he worked as a private practice attorney at Harris Cook LLC, handling civil, family and criminal law. He was elected in 2014 and took office in January 2015 as the Judge of the 211th District Court in Denton County.
Because so much crime is committed by drug users, I asked the judge to tell the public what's being done to rehabilitate drug users who often go back to using drugs as soon as they're released from prison. It's a fact that 85 to 95 percent of addicted prisoners relapse upon release. The average cost to supervise someone on probation is $3.40 per day, while the cost to house someone in a state prison is $57.79 per day.
In the video below, Judge Shanklin talks about his role in the Denton County Drug Court which was approved by Denton County Commissioners last October.
Bob Weir is a former NYPD officer, long-time Flower Mound resident and former local newspaper editor.