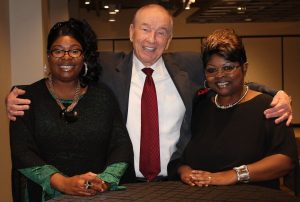 Lynnette Hardaway and Rochelle Richardson, better known by their stage name Diamond and Silk, are an American duo mainly active as video bloggers and YouTube personalities. Hardaway and her co-host Richardson are former Democrats. They are biological sisters from North Carolina who say they stand with the silent majority, voicing their opinions about "media bias, political babble, and repetitive political tactics that they feel the average American is tired of being subjected to."
They were special guest speakers at the Denton Country GOP Lincoln/Reagan Dinner on Saturday at the DFW Hyatt Regency Hotel. Texas State Senator Jane Nelson, host for the annual event, said no guests have ever created more excitement and enthusiasm than Diamond and Silk.
The keynote speaker, Senator Rick Santorum, was sensational as he talked about the optimism in the country and the vision being laid out by the Trump Administration. Texas Lt. Governor Dan Patrick was dynamic as always when he spoke about the traditional conservative values of the Republican Party. Lisa Hendrickson, Chairman of the Denton County Republican Party was at her usual charming best as she set up some surprises and humorous dialogue for the guests on stage. Another fabulous addition to the evening was Chuck Norris, famous martial artist, actor, film producer and screenwriter. It was a star-studded evening that filled the huge ballroom to capacity. The accompanying video was filmed just before the festivities began and, due to all the excitement around us, started without an introduction of the famous sisters.
Diamond and Silk came to wider prominence in 2015 as supporters of presidential candidate Donald Trump after posting a video criticizing former Fox News host Megyn Kelly for asking what they considered irrelevant questions during the first GOP candidate debate. While they are not formally affiliated with the Trump campaign or paid by it, they have been urging other supporters of Trump to follow suit on social media and at rallies. The duo first joined Donald Trump as the Stump for Trump Girls on stage at his Raleigh, North Carolina rally on December 4, 2015. They later riled up the crowd at the Trump rally on January 2, 2016, in Biloxi, Mississippi.
On November 2, 2016, Diamond and Silk appeared with Lara Trump, the wife of Eric Trump, in Winston-Salem, North Carolina, on behalf of the Trump campaign. Diamond and Silk are commentators on their YouTube channel "The Viewers View" where they candidly tell you exactly how they view modern day topics appearing anywhere and across various platforms, oftentimes with parental advisory and a common sense approach without the use of the political correctness so prevalent in modern day media. On the Viewer's View they speak their minds 100% without sound bites, and often right from the heart, because to do anything less would be an injustice to the supporters with whom their message resonates. "The time has arrived for America to awaken from 'liberal intoxication,' Diamond said, adding, "We have been stumbling around in a drunken stupor for much too long, allowing liberals to turn the American dream into an "American nightmare."
Bob Weir is a former NYPD officer, long-time Flower Mound resident and former local newspaper editor.