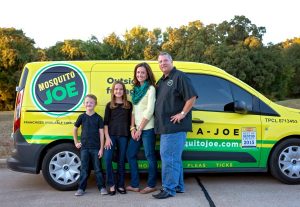 Though they've owned their Mosquito Joe franchise for just three years, Hollie and Lee Woodham have already developed such strong relationships– and provided such excellent service—they've been recognized nationally for their efforts.
The Highland Village residents learned, at the company's annual convention in January, they won the 2016 Smooth Operator Award. It recognizes franchise owners for excellence in servicing and retaining their customer base.
They were additionally awarded the 2015 and 2016 Maverick Award for finishing in the top 10 percent in five distinct customer recognition categories for the Class of 2015.
Their children, Ella, 11, and Jackson, 8, were even there to see it.
The couple's early success has boiled down to their simple philosophy.
"We feel like we're giving our families the opportunity to get back outside with peace of mind," Hollie Woodham said. "People can go outside and not worry about mosquitoes."
The Woodhams had limited exposure to mosquito-control before deciding to leave the corporate healthcare world to own a business. Diving in with both feet, as they tend to do with everything, they quickly learned the business.
"Personalized mosquito control is a fairly new service, but we take a very educational approach to prevention," Woodham said. "We're not just going to come out, treat your yard and move on and see you in three weeks. We take the approach of 'when you buy our service you are buying a relationship.'"
They bought the franchise in 2014, opened their first territory in 2015 and now have five territories encompassing a good part of North Texas.
Mosquito Joe currently has six trucks, five lead technicians and a certified applicator among the team of employees; and, they hope to add more trucks in the future. They're also moving into new headquarters north of Argyle after basing from home since they started.
The Woodhams already dispatched their first truck this year in mid-February and expect to be working through November doing their best to make North Texas mosquito-free.
"One thing that has helped us be successful is the community," Woodham said. "We live in the community where we provide service and we're finding small business supports other small business. It's about finding out who your supporters are, being honest and doing the job you say you're going to do and do it well."