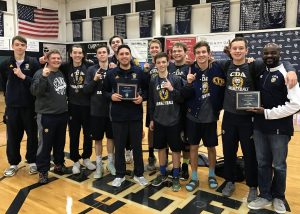 The Coram Deo boys basketball program has bounced back with a 7-5 district record this season to qualify for the district playoffs. That's quite a resurgence from the past four seasons' record of 8-40.
This was only the third time in school history that the Lions advanced to the playoffs and Coach Fonzo Martinez said there was a definite sense that his team had gotten over the proverbial hump this year.
"Our season has been special," Martinez said. "When we started, there were a lot of obstacles we had to overcome.  A few returning players were recovering from significant injuries, after being absent from basketball the previous season.
"We lost 48-points per game from our two leading scorers (due to graduation), including one who led the entire Dallas Fort Worth Metroplex in points-per-game for all private and public schools; and, we knew that was going to be a challenge."
It didn't look promising when the Lions got off to a 0-6 start this year, after going 1-25 in district competition the previous two seasons. It appeared that it would be more of the same for Coram Deo.
But, Martinez said his team never lost hope that they were about to turn a major corner.
"We still expected our team to compete in every game, and make the playoffs," he said.
Then, the Lions went on a 16-10 run to prevent a fifth straight losing season and qualify for the playoffs, and Martinez said that he believes there was one major factor in getting Coram Deo back on track.
"Love has been the biggest reason for the turnaround we've had," Martinez said. "As players and coaches, we've built a culture of how to love your teammates, the way Christ loves us, and keep God at the center of everything. Everything else is secondary. I believe there is a love our players have for us coaches and their teammates that has allowed us to compete at a higher level."
The girls also experienced a massive turnaround this season; improving from 3-25 in 2016 to 20-9 and finishing as district runner ups this year.
"This is the first year in the history of the girl's program they have had a 20-win season," Martinez said.
It was also the first time that the Coram Deo girls were ranked, reaching No. 8 at one point among TAPPS 4A schools. It is just the second time the girls have made the playoffs in basketball.
Both teams' seasons ended in the bi-district round.