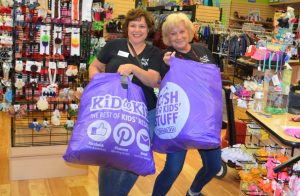 Kid to Kid Lewisville on FM 407 hosted a free "shopping" event on Feb. 9 – inviting local charities to shop their store for children's and maternity clothing to benefit families in need within the community.
Representatives from Pregnancy Help 4 You, YoungLife, Love Thy Neighbor, Cumberland Presbyterian Children's Home, Grace Like Rain and Dressed to Learn attended the event and took 545 clothing items back to their organizations. The retail value of the donations from Kid to Kid was over $2,900.
Attendees were Mandi Marco and Katherine Yarbrough from Pregnancy Help 4 You, Davina Hollin from Cumberland, Shelly Cullum from Grace Like Rain, Shannon Nault and Cassandra Ragsdale from Dressed to Learn, Jessica Marick from YoungLife, and Mary Ann Saxton and Debbie Shaw from Love Thy Neighbor.
Kid to Kid Lewisville buys and sells gently used, children's clothing, baby equipment, toys and maternity clothing, for quick cash, as well as a place to find new and used children's and maternity items.