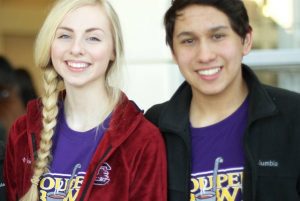 Leading up to the biggest football game of the year, Market Street in Flower Mound this week kicked-off the Souper Bowl of Caring food drive to benefit the North Texas Food Bank and Tarrant Area Food Bank.
Now through Sunday, Feb. 5, guests can purchase prepackaged bags of food for $8, or donate any monetary amount at check out.
For every $1 donation, the North Texas Food Bank provides three meals and the Tarrant Area Food Bank serves five meals to hungry families throughout DFW.
"We've just passed a holiday that centers around great family meals so let's take a moment to remember there are food-insecure families right here in our area in need of daily help," said Mary Myers, communications and community relations manager for Market Street owner, The United Family.
"Souper Bowl of Caring provides a great opportunity for our guests to help make an impact on their communities by donating to local area food banks without having to go out of their way."
Souper Bowl of Caring is a nationwide youth-led movement of community organizations, businesses and compassionate individuals joining together to tackle hunger and poverty in local communities.
In 2016 the Souper Bowl of Caring campaign generated $10,493,661 in donations by the Big Game day, 100 percent of which went directly to community food banks, soup kitchens or other local charities.