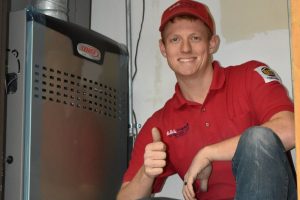 Some people are born with a generous spirit, some are taught to be generous and some work to learn it; Keith Neff of Highland Village and owner of Triple A Air Conditioning, is all three.
Earlier this year, he had been invited to play in a fundraising charity golf event by his buddy Gene Stewart. Afterwards, he was chatting with his fellow-golfer, when the topic of the then soon-to-open Kyle's Place came up; Neff was unfamiliar with the facility.
Kyle's Place, run by the North Texas nonprofit, Journey to Dream, is the new emergency youth shelter for unaccompanied teens located in Lewisville; the only one of its kind in North Texas. Each day in Denton County, there are approximately 2,000 homeless youth; 400 of those are high school students. The new 16-bed facility will provide a safe shelter for unaccompanied 14- to 19-year-olds.
A couple of months after the golfing event, Neff got a call from Stewart, a board member for Journey to Dream, asking him if it would be possible for someone from Triple A to check the heating and A/C equipment in the building being renovated to house Kyle's Place.
"I sent my son, Dustin, over to see how much work was going to be needed," said Neff. "He reported that it was going to take a lot of work. We talk about how we need to be in our community and [be] servant leadership and how we can help when the opportunity shows up."
After a short discussion between father and son, Neff picked up the phone and called Lennox Industries– the distributors of Triple A Air Conditioning equipment—and asked them if they'd consider donating four units to the charity; it was an immediate "yes."
Next, he called other suppliers of indoor air-quality products and got four air-purification units donated; then all new duct work.
"It all came together, just by asking," said Neff. "I was shocked at how people would help."
The equipment donated equaled $50,000. People who know Neff would say the donations were partly based on who was doing the asking.
"We're in a lot of people's homes and businesses and can see if they've had some hardships," said Neff. "We feel like we're blessed."
Neff grew up in Irving, where his father had his own air conditioning business dating from 1969. He learned the business from his father and now his son, Dustin, is the third generation in the industry. Although he has a degree in Sports Management with a Business minor from Texas A&M, Dustin had always intended to join the family business. He's Triple A's operations manager.
Neff married his high school sweetheart, Corinne, 30-years-ago (come May 2017) and the family moved to Highland Village 13-years-ago; Dustin was in eighth-grade and daughter Hanna, a University of Arkansas graduate in Elementary Education, was in fourth grade at the time.
Like most families, the Neffs have had emotional ups-and-downs.
Corinne, who works for Fed Ex, is a 10-year breast cancer survivor; an emotional down-and-up by itself; and, both Dustin, in January, and Hanna, in May, were married in 2016.
Neff credits his wife's salary as the reason he could start his own business.
He's thankful for all his many blessings; the fact that he generously pays them forward is a blessing for others.