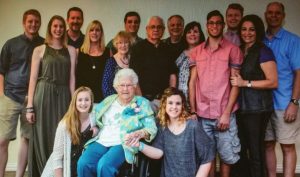 Gertrude Kathryn Ontjes was born September 1, 1916 in Austinville, Iowa, the sixth of nine children. When she was born, her parents were still traveling by horse and buggy or in the winter on a sleigh.
When Gertrude was 15 years old, she met her future husband, Louis Ontjes, at the skating rink and got married on November 23, 1935. The couple went on their honeymoon to Moline, IL for the weekend.
In March 1936, Gertrude and Louis started farming in Iowa which cost $1000 to rent during the depression. They had three children named Nancy, Mary and Robert.
Louis passed away on August 31, 1977. In the 1980's, Gertrude decided to move to Florida.  She enjoyed travelling, doing crafts, baking and sewing. In 2003, she moved from Florida to Arkansas.
In June 2014, Gertrude moved to Rambling Oaks Courtyard Extensive Care Community in Highland Village where she presently resides. She continues to have good eyesight that allows her to read the Bible and do word puzzles.
Gertrude is very thankful for her 3 children, 7 grandchildren and 17 great-grandchildren. All of Gertrude's family and friends attended her 100th Birthday Celebration last month at Rambling Oaks Courtyard which they all reminisced about the good times they experienced.