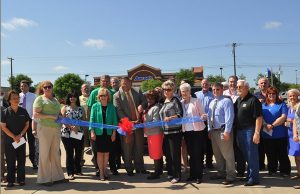 State and local officials gathered Thursday to celebrate the completion of FM 2181 in Corinth at a ceremonial ribbon cutting to officially open the road.
The widening project began construction in January 2014 and opened to traffic last month.
"The expansion of FM 2181 will help bring a new burst of growth and prosperity to Denton County," said Commissioner Bobbie Mitchell, who was serving as co-emcee. "This is the kind of transportation infrastructure that will advance our quality of life and I am honored to be a part of the process."
Planning for the expansion began in the 1990's and was part of the Denton County 2004 bond program approved by the voters.
The cost of the project was approximately $24 million for completion with a $2.2 million local contribution from Denton County and $242,000 from the City of Corinth.
Now that construction is complete, the roadway has gone from a two lane rural farm road to a six lane divided urban facility with improved turning movements at all major intersections.
Also serving as co-emcee, Denton County Commissioner Hugh Coleman remarked during the ceremony, "FM 2181 has been in need of these improvements for a long time and we're very happy to open this new road. But we're not done. We are also working to widen FM 2181 along the north-south portion into the City of Denton which will be under construction soon. Construction on FM 2499-section 5 continues to progress and is anticipated to open in late 2017 to continue enhancing mobility in this area."
"This project is the latest example of the strong relationship TxDOT has with its partners in Denton County and local entities," said Kelly Selman, Dallas District Engineer with TxDOT. "Judge Horn and the Commissioners Court, including Commissioner Coleman and Commissioner Mitchell, are always ready to partner with the department to keep traffic moving in Denton County."
Work on the FM 2181 North/South project has begun. Right-of-way has been acquired and utilities are currently being relocated. It is expected to let in August of 2017.