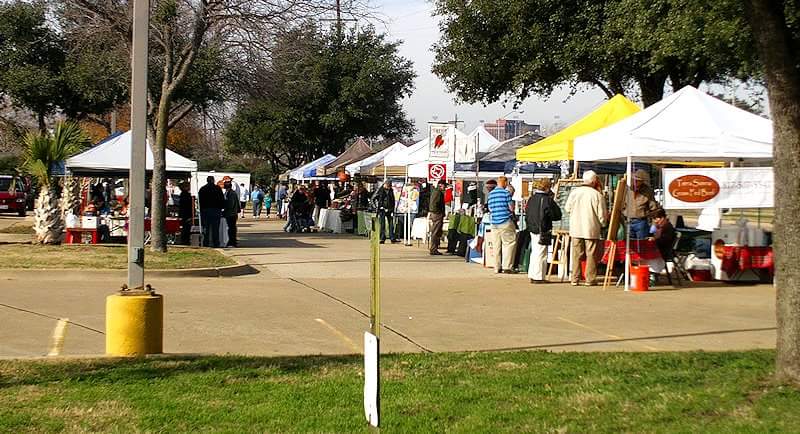 The first-ever Flower Mound Farmers Market will open next Saturday, June 11, at 9 a.m. to 2 p.m., in the Town Hall parking lot at the south-east corner of Cross Timbers Rd. and Morriss Rd. The opening was moved back a week due to weather conditions.
The European-style market is under the management of Four Seasons Markets, which is currently managing three North Texas locations: Campbell Farmers Market on Saturdays— the largest with more than 80 vendors—at 677 W. Campbell Rd. in Richardson; Carrollton Farmers Market at 2722 N. Josey Ln. in Carrollton; and, Belt Line Farmers Market at 101 Coit Rd. in Richardson, both of which are on Sundays.
Customers at a Four Seasons Market can expect a lot of fresh organic and local produce, grass-fed beef, pork and chicken, pastured eggs, artisan breads, olive oil, cheese, homemade caramels, pastries, pickles, as well as candles, plants and other hand-made crafts.
Started in 2009, Four Seasons Market is the brainchild of Vincent Hirth and Florine Bowman —of Florine Bowman Pastries in Dallas fame– and is modeled after successful festivals the couple ran in France, prior to moving to America.
"Our aim is to give residents and customers the opportunity to sample and purchase fresh produce and other food products, plus hand-made crafts in a setting with a European flavor," said Hirth. "But we also aim to support local small businesses; that's how we originally started [in business] back in France."
Hirth was originally a pioneer in web technologies, founding the concept of lifetime web hosting. In 1994, he and Bowman started a bi-monthly journal promoting local Normandy, France, businesses, which reached one-million copies in six-months.
"I've opened 24 markets in the U.S. and each location has a different need and setting," he said. "The market out in Oregon has different products and what customers want in that market. In the Dallas Metroplex, the problem is that Texas is a difficult place to grow things. Right now we're worried about the farmers and the farms because of the flooding."
Hirth said that while locally-grown food items are the top priority, that may not be a possibility; either because of weather conditions or seasonal restrictions.
"Local is good, but with Texas growing conditions, the majority will have pesticides," he said. "A lot of farmers market customers are looking for organic foods and that may mean the apples come from Washington State or from organic farms in California that are certified. That's what the foods labeled Four Seasons Organic mean. There's no reason to cross the U.S. borders to get the best produce."
Hirth added that the quality level and number of vendors is important. To date, 36 vendors have committed to attend the first Flower Mound event. For a list of the 35 vendors who've already committed, visit: http://fourseasonsmarkets.com/?sct=events
"We want to be a part of the community," he said. "We welcome local small businesses to bring tastings to the market, too, to help promote their own business. All they have to do is contact us."
Hirth said that coming to the market should be more than merely a shopping for produce experience. There will also be an area to sit down and eat, both vendor-provided items, but also from local food vendors—BBQ, tamales, pastries and more.
"I will be at the opening and the first five or six markets after that, just to see how things are going," said Hirth. "Our team is excited to meet everyone from Flower Mound and the other communities in the area; I'm looking forward to it."
Food Vendors who are interested in joining the market should call Ashley at 972-836-9044, or apply directly online at http://www.fourseasonsmarkets.com/apply
For additional information, visit either the Facebook page at: www.facebook.com/fourseasonsmarkets, or the website: www.fourseasonsmarkets.com, or call them at 972-884-0680.