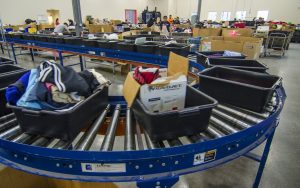 Christian Community Action's Distribution Center/Processing Center in Flower Mound will be hold its third birthday this month. Help them celebrate by giving back.
Let's face it; you have wanted to donate those items for months. As the spring season approaches, so too does the urge to "de-clutter."
This time around, why not make an impact with those gently used items instead of just tossing them out? Just pull your car up and they will take care of the rest.
On Saturday, March 19th, from 9 a.m. to 12 p.m. CCA will be hosting a donation drive and open house at the CCA Donation Center at 900 Lakeside Parkway in Flower Mound.
Your gently used items will be cared for and re-sold to assist in funding CCA's mission of "bringing hope and changing lives."
Tours of the facility will be given on the hour. This is a great chance not only to see the facility but also observe the process of turning your spring cleaning items into services for the poor.
For more information on CCA or how to donate items to ReSale stores, visit www.ccahelps.org.
To give and further the mission of CCA, visit www.ccahelps.org/give or text GIVE to 972-332-5884.