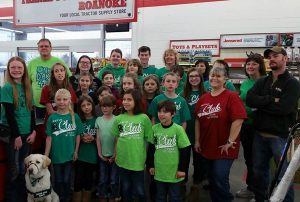 The Roanoke Tractor Supply Company was recently recognized by the National 4-H Association for raising over $500 for the Argyle 4-H Club through the 12 day Paper Clover Campaign.
The local tractor supply store was honored with the "Regional Champion" award for increasing the money raised by 30.4-percent and "Class Champion" for meeting the goals of the 4-H/TSCO Paper Clover Promotion.
The Argyle 4-H Club assisted the Roanoke Tractor Supply Company in promoting the campaign, and store employees were presented a ribbon from the Argyle 4-H Club to recognize their achievements.
The 4-H/TSCO Paper Clover Campaign is a nationwide, in-store fundraiser that benefits 4-H programming in the communities where a Tractor Supply store is located. The campaign raised more than $893,000 to support 4-H on the local, state, and national levels during its twelve day promotion.
4-H is the nation's largest youth development organization, growing confident young people who are empowered for life today and prepared for careers tomorrow. 4-H programs empower nearly six million young people across the U.S through experiences that develop critical life skills.
4-H is the youth development program of our nation's Cooperative Extension System and USDA, and serves every county and parish in the U.S through a network of 110 public universities and more than 3,000 local Extension offices.
To learn more about the Denton County 4-H program, contact the 4-H offices at 940-349-2884. To find out when the next Paper Clover Campaign takes place and how you can help, visit www.tractorsupply.com/4-H.