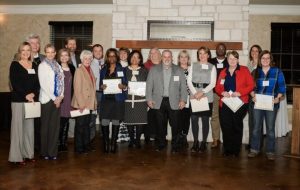 The Highland Village Women's Club donated over $9,000 to several charities at their "Gifts of the Heart" meeting on February 3rd.
Recipients included: Love Thy Neighbor, Special Abilities of North Texas, Denton County Veterans Coalition, Paws Across Texas, Journey to Dream, Kyle's Place, Community Partners Denton County, Community in our School, Giving Hope, Inc. The Cure Starts Now – North Texas, B Noble Farm & Rescue, The Salvation Army, and Lewisville ISD Choirs.
The HVWC raises money throughout the year to donate to local charities. For information, visit www.hvwclub.com.