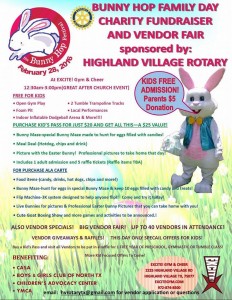 Kids will have a blast this Sunday afternoon at the Bunny Hop Family Day Charity Fundraiser at Excite Gym in Highland Village.
The annual event is sponsored by the Highland Village Rotary Club to raise money for local charities.
Admission is free for children. Adult admission is a $5 donation.
Kid's Passes can be purchased online in advance for $15 and include: Picture with Easter Bunny, lunch (hot dog, chips & drink), Easter Egg Hunt, one parent entry, entry into raffle for 1 year free Excite classes  ($1,100 value).
The event will be held this Sunday, February 28, from 12:30 to 3 p.m. at Excite Gym, 2225 Highland Village Rd, Highland Village.