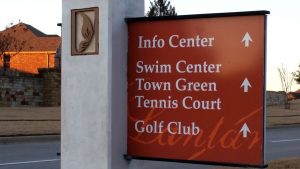 UPDATE 2/23/16: The Lantana HOA board seat election was 83 votes short for a quorum to be met on Tuesday night. The voting period has been extended until Tuesday, March 1st. Homeowners who have already cast their ballots do not have to vote again. Residents can cast their vote online.
ORIGINAL STORY: Lantana has reached the point where a resident will be elected to the Lantana Community Association's Board of Directors and 14 residents have stepped up to run for the first open seat.
The community association has posted biographies of the candidates and an online ballot on the HOA website, www.LantanaLive.com, and will be mailing notices of the election meeting, set for Tuesday, Feb. 23, at 6:30 p.m. at Harpool Middle School.
Candidates running for the board seat are:
Steve Armstrong
Judy Arrington
Jim Bridges
Melody Gscheidle
Keith Medley
Kharl Mena
Lesley Miller
Linda Nuber
Vince Palmby
William Pritchard
Curtis Rennels
Zindzi Robinson
Michael Trotter
Kimberly Windle
Three of the candidates–Jim Bridges, Melody Gscheidle and Kharl Mena– have been serving on the Lantana Community Association's Resident Advisory Committee during the past year getting acquainted with the association's daily operations.
Residents can vote online by 5 p.m. on February 22 or at the meeting.
To help insure a quorum is reached, proxies will also be provided to allow absentee voting. However, because nominations from the floor are permitted, residents are encouraged to attend the meeting in person.
Although the current Board of Directors is comprised of three employees of developer Forestar Group, one of the board members is 11-year Lantana resident, Tara Boswell, Lantana Sales Manager.
For questions or additional information, contact Lantana Community Association Manager, Mark Norton, at [email protected], or 940-728-1660.