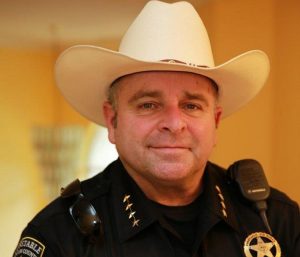 Greetings. As usual, I want to thank the Lord Jesus Christ for it is through his Grace that I am allowed to serve you as your Constable in Precinct 4.
By the time you read this article I hope everyone had a very Happy Thanksgiving and are looking forward to a very Merry Christmas and Holiday Season.
There have been a number of things since my last article that have transpired at my office and in my personal life.
First and foremost I want to tell everyone how blessed I am to have been formally united in a short civil ceremony with my lovely wife, Candace Simon-Burch.
Secondly, I was recently elected to the Office of President of the Prestigious and Governing Body of the North Texas Justice of the Peace and Constables Association.
JPCA is the governing body is for continued education and legislation for the Justices of the Peace and Constables within the State of Texas.
I feel very much honored to have been elected to this position by my Colleagues.
For those of you that are not aware, I am up for Re-election in March of 2016 and would appreciate all of your support. I will be having my Annual Christmas Party and Fundraiser with funds being generated to assist in my residual efforts being active in numerous civic, social, and political organizations with my latest sponsorship being that of The Awards Dinner of the Volunteers of The Denton County Republican Party hosted by Circle R Ranch in Flower Mound.
So on December 15 from 6:30-9 p.m. at La Beaux Chateau located at 2701 Corporate, Flower Mound it will be a night to enjoy festive music and fellowship as we celebrate the reason for the season.
We will have music, an auction, food, and my guest of honor, Donald Driver, former wide receiver of the Green Bay Packers and the Season 14 winner of 'Dancing with the Stars'.
I cordially invite you, your guests, and your family to attend my event which is open to everyone, and your attendance would be greatly appreciated.
RSVP's are encouraged to [email protected], by visiting www.timburch.com, or by calling 817-491-9001.
You can contact me directly if you need assistance or have feedback you would like to share. My office is located at: 217 North Oak St., Roanoke, TX 76262. Email: [email protected]county.com. Phone: 972-434-3980. You can also visit my political website: www.timburch.com or email [email protected].
Thank you and God Bless.