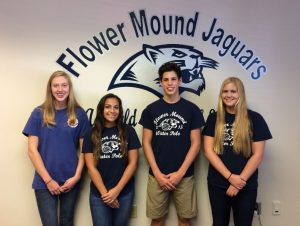 FMHS Students were awarded Outstanding Academic All-American Club for USA Water Polo.
Selection is based upon GPA of 4.0 and above, along with participation on the Flower Mound High School Water Polo Team. The boys team won third place and the girls won fifth place at the state championships in Austin last year for TISCA Water Polo.
These students are all members of USA Water Polo. They all attended the 2015 National Junior Olympics this summer for water polo on their club
team: Thunder Water Polo.
The 16U boys team placed sixth in the gold bracket.The 18U girls team placed 14th in the gold bracket.