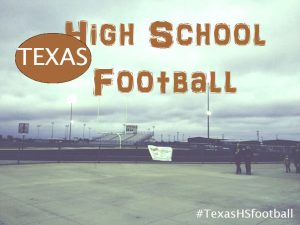 Here's a quick preview of tonight's high school football games:
The Argyle Eagles take on the 5A Denison Yellowjackets (1-0) at another away game. The Eagles (1-0) are ranked #2 in the 4A. Last year, the Eagles swooped in late in the 4th quarter to beat Denison 42-35. Kickoff tonight is at 7:30 p.m.
The Flower Mound Jaguars will host Keller. The Jags took home a loss last week against Byron Nelson, making them 0-1. The teams hit the gridiron at 7:30 p.m.
The Marcus Marauders will face-off with Arlington at home. Marcus won last week 27-17 over Mansfield. That win brought the Marauders up 11 spots in the current standings in Class 6A. Tonight's game starts at 7:30 p.m.
Guyer is up against Ennis on Wildcat turf tonight. Guyer (0-1) is ranked #10 in Class 6A after a tough loss to #1-ranked Allen last week. Kickoff is at 7 p.m.
Liberty Christian's Warriors face Springtown on the road. The Warriors lost to Celina last week, 35-20. They square-off with the Porcupines tonight at 7:30.
Follow the @ctgdentoncounty on Twitter for game updates throughout the evening.