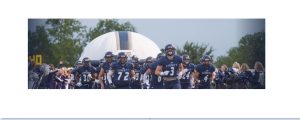 At Liberty Christian School in Argyle, the football Warriors reached the second round of the playoffs last season and finished 7-5 overall for the year, and coach Barton Hundley said he is optimistic about his team's chances heading into 2015.
"We are excited about the 2015 football season," Hundley said. "It will depend on how well we come together and our attitude toward the work it is going to take to be as successful as we feel we can be."
Liberty finished third in district last season and returns two all-state players in Drew Hunnicutt (WR,DB), who was an all-state safety last season, and Hunter Griffith (LB,TE), who was all-state linebacker and athlete last season.
"To make the playoffs and have a good run we are going to have to be an extremely focused football team," Hundley said. "We will have to pay a lot of attention to detail and get better every week. We will all have to buy in and be on the same page. Our seniors are going to have to lead well."
Liberty Christian returns nine starters (five offensive and four defensive) from last year's team.
The Warriors biggest challenges this season will come on Oct. 2, when they host Bishop Lynch, and Oct. 30 at Prestonwood Christian.