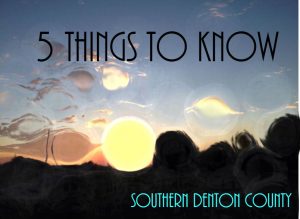 Good Morning, All! Here are 5 things to know today:
The Greater FM 407 Lions Club is meeting from 7-8 p.m. at Bartonville Town Hall.
There's a Women of Flower Mound Membership Drive and Social at 6 p.m. at Fresco's Mexicana in Highland Village. You do not need to be a resident of Flower Mound to join.
Let's Talk College: What you need to know right now is on tap at 7 p.m. at the Flower Mound Library. Erika Dietz, a local college planner and founder of Guru Academic Advising, will answer questions and help you figure out what you can do now to set your student up for success.
Find out what's happening on the Highland Village political scene at tonight's city council meeting, happening at 7:30 p.m. at city hall.
The "Common Threads: Denton County Local History Showcase" exhibit opens today at the Courthouse-on-the-Square Museum in Denton, featuring artifacts and histories from Argyle, Aubrey, Krum, Sanger, Roanoke, The Colony and Pilot Point. The exhibit will be open from 10 a.m. to 4:30 p.m. Monday–Friday and from 11 a.m. to 3 p.m. on Saturday.