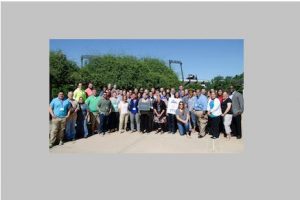 Two Flower Mound teachers were selected to attend "From Colonists to Revolutionaries," a professional development institute sponsored by Humanities Texas, Texas Christian University and TCU's Center for Texas Studies.
Valerie Furnas and Kristen Tufnell, who teach U.S. history at McKamy Middle School, attended the program June 15-18 in Fort Worth. The event drew 52 Texas teachers to TCU for three-and-a-half days of presentations and small-group seminars, studying topics such as European exploration and colonization of North America, the economic life of the British Colonies, the development of representative government and political institutions and the history of Texas during the Mexican national and revolutionary periods.
"[My] deeper understanding of this content, [which] I recently started teaching, will aid with conversations in my classroom," Tufnell said. "The primary sources will also be extraordinary helpful."
Furnas also looks forward to incorporating primary sources into her curriculum, which will further her students' comprehension of this period in American history.
"From Colonists to Revolutionaries" was made possible with support from the State of Texas and the National Endowment for the Humanities. Humanities Texas is the state affiliate of the National Endowment for the Humanities. Its mission is to advance education through programs that improve the quality of classroom teaching, support libraries and museums and create opportunities for lifelong learning for all Texans.