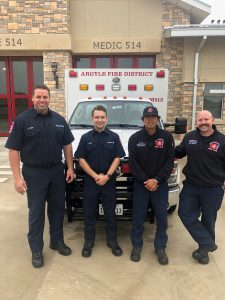 The Argyle Fire District has added another ambulance to its fleet.
Medic 514 is now in service at Station 514, 6801 Cleveland Gibbs Road in the Harvest community, according to a news release from the district. Station 514 will now be staffed with a minimum of five personnel 24/7 and will respond to all EMS calls with a paramedic engine and ambulance.
Having this additional ambulance will reduce the response time and driving distance for EMS calls, particularly those on the west side of the train tracks along Hwy 377.