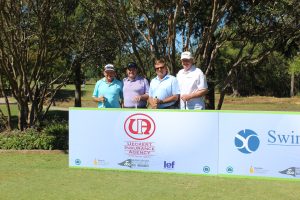 Dean Ueckert, a two-term mayor of Lewisville, came within six inches from winning $100,000 for a hole-in-one at The Third Annual Collin/Allen Memorial on Oct. 7.
"The Collin/Allen Golf Tournament is a great fundraising event with opportunities for everyone to have fun and a chance to win up to $300,000," said Ueckert, owner of Ueckert Insurance. "Even a 25+ handicapper like myself can get lucky. On hole #16, a 185-yard par 3, the ball landed in the middle of the green, rolled, hit the stick then stopped six inches away. Very close, but no cigar or cash. Overall, it was a great event."
The annual event, hosted by Denton Country Club, allows players the chance to win hole- in-one prizes while benefiting the Denton and Lewisville ISDs' education foundations. In its beginning three years, the golf event has raised over $250,000 for Denton County kids pursuing college careers.