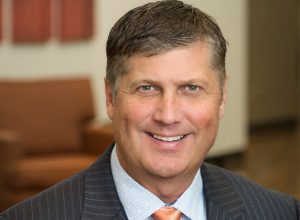 I've received several questions about the construction going on along FM 2499 and thought this would be a good opportunity to discuss the projects being completed.
The majority of the construction activity is taking place near Flower Mound's southern border. There are four main projects along FM 2499 under construction:
Lakeside Crossing: This project is located on the west side of FM 2499, just south of Lakeside DFW and Lakeside Boulevard. It is the future site of Hotel Indigo, a six-story, full service boutique hotel with 140 rooms and suites from the IHG hotel group. The hotel's first floor will offer guests a communal area/gaming/we work area, coffee bar, fitness center, an approximately 2,000 sq. ft. restaurant/bar, more than 4,000 square feet of convention/conference space, and 1,200 square feet of convention pre-function space. The hotel's sixth floor will also contain a 4,000 sq. ft. restaurant/bar with approx. 2,500 square feet of rooftop patio/lounge and a separate private dining area. The hotel will contain many design and decorating features specific to Flower Mound, such as murals of views of the lake.
It will also have several restaurant, office, and retail spaces, available within six separate buildings. Employment at full development is estimated at approximately 250-300 and total build-out construction value is estimated at $55 million. In addition, 15 townhomes will border the western edge of this development. Site work is currently ongoing and permit approval for the hotel and two front retail buildings is expected any day. It was approved by the Council in July 2017. For more information, please visit www.lakesidecrossingdfw.com.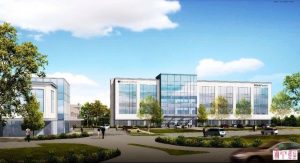 Lakeside International Office Center: This approximately $32 million development is located just south of Lakeside Crossing, also on the west side of FM 2499. The project received Council approval in February 2019. There will be two office buildings on the site, one that will be four stories and 120,000 square feet and a second building that will be two stores and 18,500 square feet. Both buildings will be served by surface and structured parking. IntelliCentrics, a healthcare company that has the largest trusted healthcare technology platform, has already signed a lease for the top floor of one of the buildings. The site will contain a trail system that will connect patrons to the nearby Shops at Lakeside. Additionally, there will be eight townhomes along the western edge of the development. Site work and building construction is underway for the entire project. For more information, please visit www.lakesideioc.com.
The Point: The Point development is located on the east side of FM 2499, south of Home Depot. On the 35-acre tract, Direct Development plans to construct 57,000 square feet of office space and a 96-room, four story Tru Hotel by Hilton. There are also approximately 600 highly-amenitized apartments being constructed by Trammell Crow on the property. The multi-family component of the project will be known as Alexan at The Point. This project has been in the works since its approval in 2017. Site work is currently underway, along with construction of Phase I of the project, which will entail 335 units of multi-family and the hotel. The site will also contain walking trails and a dedicated three-acre natural park at the rear of the site.
Eastgroup Flower Mound, Phase 1: Approved by the Town Council in July 2019, this project is located on the west side of FM 2499, just south of the Gerault flyover. The developer Eastgroup is constructing five flex-space office/warehouse buildings, totaling almost 370,000 square feet on the 30-acre tract. Taking into consideration the project's prominent location at the Town's entrance, the developer provided enhanced building elevations with additional masonry and extensive glass, additional truck court screening, and a water feature at the front of the site. Additionally, close to 50 existing trees are being preserved and the contractor will be planting more than 150 before work is complete. Site work is underway for the entire project, along with construction of the first three buildings.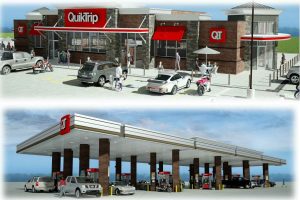 While not in the same area of Town, another development is underway on FM 2499 and that is the future site of the QuikTrip, located at the southwestern corner of FM 2499 and Waketon Road. This has been in the works since its Council approval in April 2016 and is expected to completed late spring/early summer 2020.
All of these developments can be viewed on the "under construction" tab of the Town's interactive development map. In case you haven't heard, the Town recently launched an email/text notification system for those who would like to be alerted when a development project has been scheduled for review by the Planning and Zoning Commission or the Town Council.
To sign-up for these alerts, please visit the NotifyMe webpage at www.flower-mound.com/notifyme and look for the section titled "Development Projects Agenda Notification." Participants can sign-up for as many zone notifications as they would like. Town staff geographically divided the Town into five zones, so residents can sign-up for notifications based upon area(s) of interest. In the notification, recipients will be directed to view the new "On Agenda" tab on the Town's interactive development map, located at www.flower-mound.com/developmentmap. For more information, please visit www.flower-mound.com/dpan.
As you know, new development has mixed reaction in any community. While we all enjoy the natural spaces of undeveloped land, the reality is that someone owns that property and has the legal right to seek development through the required process. In fact, when the property owner seeks to develop their land within current authorized zoning uses, the Town could be held liable if it tries to stand in the way. The Town Council, Planning and Zoning Commission, and the other Boards and Commissions that play a role, all do what they see best to ensure Flower Mound has high quality development. If you have additional questions, the Town's development map has staff contact information listed on each project at www.flower-mound.com/developmentmap.