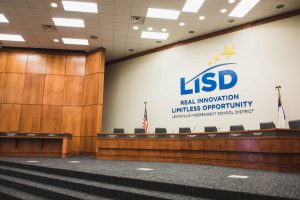 Lewisville ISD is currently seeking members for its District Advisory Council, formerly known as the District Leadership Team.
The DAC provides an additional way to engage the community and seek input and feedback on the district's planning efforts, as well as LISD's short and long-range goals, according to a news release from LISD. Additionally, the DAC may select a special initiative or project to explore more deeply, in order to provide recommendations to district leadership.
This group meets at least four times per school year from 4:30 – 6 p.m. at the LISD Administrative Center, 1565 West Main St. in Lewisville. Meetings will be held on Wednesdays, and the first meeting is set for Wednesday, Sept. 4. Volunteers will be asked to attend every meeting.
If you are interested in serving on the DAC, complete the district's form by Thursday, Aug. 29 here.