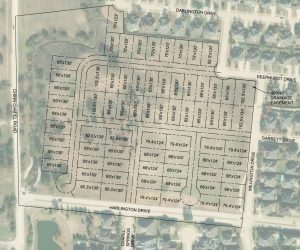 Highland Village has scheduled three public hearings this month pertaining to proposed land use changes.
The hearings will allow resident feedback for proposed amendments to properties at 2601 Harlington Dr. and 1400 Highland Village Rd., and amendments to the Comprehensive Zoning Ordinance.
2601 Harlington Dr. is owned by the Lewisville Independent School District (LISD) and the City had a lease agreement with LISD to use the land as practice soccer fields. LISD has notified the City of termination of the lease effective February 23, 2020. The property is currently under contract with David Weekly Homes. The proposed concept plan shows 72 new single-family homes.
The 1400 Highland Village Rd. public hearing is set to receive public comment on the proposed amendment from Residential Zoning SF-15 to a Residential Planned Zoning District. The city will post the concept plan when it receives it.
Comprehensive Zoning Ordinance proposed amendments are specific to Section 29.6, Use Charts, Automobile, Transportation, Utility, Communication, and Related Uses to allow for Auto Storage or Auto Auction in the Light Industrial and Commercial Zoning District subject to approval of a Conditional Use Permit. In addition, consider a text amendment to Section 39, Definitions, amending the definition of Auto Storage or Auto Auction.
Public hearings will take place at the Planning & Zoning commission meeting on Tuesday, August 20 at 7 p.m. and the City Council meeting on Tuesday, August 27 at 7:30 p.m. Click here for more information.