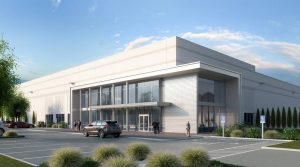 Callaway Golf Company will open a 783,000-square-foot national distribution center in AllianceTexas next year.
Callaway is a global sporting goods company that specializes in designing, manufacturing and selling golf equipment, accessories and lifestyle-related products. The new facility will be located in the Alliance Center North sector, which is located in the southernmost part of Denton County, along the east side of I-35W, south of Hwy 114. The new facility will be about four times the size of the company's existing building and is expected to open in early 2020, adding a significant number of jobs to the Alliance Corridor, according to a news release from Hillwood, the developer of AllianceTexas.
"After nearly a decade of calling AllianceTexas home, we are proud that Callaway Golf Company chose to grow with Hillwood and continue our incredibly valued relationship well into the future," said Reid Goetz, vice president of Hillwood. "Callaway Golf Company is clearly a leader in the golf equipment and apparel fields, as well as an innovator in their approach to logistics and managing the global supply chain. Callaway Golf Company will enjoy the long-term operational benefits provided within AllianceTexas, a leading-edge platform for real estate flexibility at scale with one-of-a-kind infrastructure and amenities to support their global logistics footprint."
Alliance Center North 3 allows Callaway Golf Company to consolidate omni-channel fulfillment operations in North America for its portfolio of brands – Callaway, Odyssey, OGIO, TravisMathew and Jack Wolfskin.
"Our new, larger distribution center gives us the ability to bring our family of brands under one roof to better serve our customers," said Brad Barnett, senior director of operations at Callaway Golf Company. "And we're thrilled to have worked with our longtime and valued partners from the CBRE and Hillwood teams on the new site."
Alliance Center North 3 was originally launched as a spec building last summer as part of Hillwood's ongoing strategy to have spec industrial options available, in all sizes and at all times, for both existing and new customers within AllianceTexas, according to the news release. As part of the Alliance Center North sector, Alliance Center North 3 benefits from direct access to Interstate 35W, as well as AllianceTexas' robust transportation infrastructure platform, including Fort Worth Alliance Airport, BNSF Railway's Alliance Intermodal Facility, the FedEx Express Southwest Regional Hub, Amazon Air's new regional air hub and the UPS and FedEx Ground Hubs.
"We were honored to be able to work on behalf of Callaway Golf on such a significant project," said Steve Berger, senior vice president of CBRE. "We're extremely pleased with the space we were able to find for them at AllianceTexas. The new location positions Callaway for tremendous growth, assuring the best possible outcome for an outstanding company."
Like all AllianceTexas companies, Callaway Golf Company will have access to workforce recruitment, training and retention resources via the Alliance Workforce Center and Tarrant County College's Corporate Training Center and Center of Excellence for Aviation, Transportation and Logistics (CEATL).