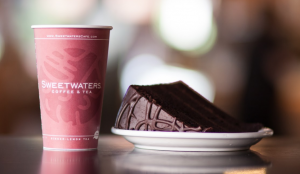 A new coffee shop will open later this month in south Denton.
Sweetwaters Coffee & Tea, 3220 Teasley Lane, Suite 120, will open with a Friends, Family & Community Charity Event on July 28 from 1-5 p.m. to benefit the Monsignor King Outreach Center, which provides emergency assistance, care, and comfort to members of the Denton County community who are experiencing homelessness.
The cafe will be open leading up to Grand Opening week that kicks off Aug. 4 and will offer a globally-inspired menu featuring premium coffees, teas, pastries and more, according to a news release.  Franchisee owners, LoriAnne & Jeremy Schmucker, are excited to bring Sweetwaters' community focus and quality ingredients to Denton.
"We pride ourselves on being the neighborhood coffee house that focuses on real ingredients," LoriAnne said. "At Sweetwaters, there is something for the whole family to enjoy."
The Grand Opening celebrations include a ribbon cutting on Aug. 6 from 10-10:30 a.m., daily discounts, community events and week-long promotions.
The cafe will also feature fairy doors, as seen in the Sweetwaters' Ann Arbor, Michigan location. Since this first fairy door appeared, it has inspired guests of all ages to write stories about the fairies that might live there, according to the news release. LoriAnne and Jeremy Schmucker want to bring the same sense of whimsical wonder to Sweetwaters Teasley in hopes to inspire the rest of the community.
"Sweetwaters is more than just a place to grab a great cup of coffee or tea," said LoriAnne. "It's truly a place where people can come and be a part of the community."
The Schmuckers plan to open a second Sweetwaters location in north Denton.