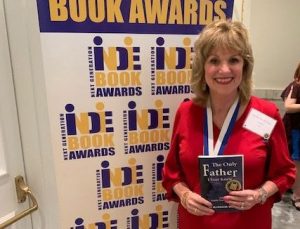 Lantana resident Lisa Burkhardt Worley has been named a finalist for an international writing award, according to a news release.
Worley was presented the award Friday for her new book, The Only Father I Ever Knew: How a Fatherless Child Finally Found True Love, in the Next Generation Indie Book Award Competition, part of the world's largest nonprofit book awards program for independent publishers and authors.
The Only Father I Ever Knew, released in September, is designed to help readers overcome father wounds. In the book, Burkhardt Worley describes the father-like attributes of God against the backdrop of her own fatherless life. Her father, a doctor and polo player, died from a massive heart attack two months before she was born during a polo match. There are 16 other contributors who share their stories of how God filled the void that their absentee father left.
Lisa Burkhardt Worley is a former national television sports reporter, is a nine-time award winning author or co-editor of eight books and a Bible study, including the Pearls of Promise devotional, four-time award-winning, If I Only Had: Wrapping Yourself in God's Truth During Storms of Insecurity, Christian Literary Award-winner, The Most Powerful P: A Child's Introduction to the Power of Prayer, The Most Powerful P Activity Book and Prayer Journal, The Only Father I Ever Knew: How a Fatherless Child Finally Found True Love, Knowing the Father Bible study and the three-time award-winning Stories of Roaring Faith, Volumes 1-3.
Burkhardt Worley is the founder of Pearls of Promise Ministries, a ministry with a goal of helping women overcome dysfunction and trials in their lives through the strength and love of Christ. Lisa, a popular speaker and teacher, often shares her personal story of victory as she grew up in a fatherless home with a mentally ill mother. Each year, Pearls of Promise also hosts a "Level-Up" Conference in Dallas and other cities. In addition, Lisa co-hosts an international radio show program called A Time to Dream, a program that features true stories of overcoming, and is a regular blogger on her website, www.pearlsofpromiseministries.com.
Lisa earned a Master of Theological Studies degree from Perkins School of Theology in 2008, graduating Magna Cum Laude. She spent 19 years as a national television sports reporter on HBO Sports and ESPN, was an anchor for the Madison Square Garden Network in New York City, and was a local sportscaster at both KENS-TV in San Antonio and WTVC in Chattanooga. In addition, she serves with Roaring Lambs Ministries as Director of Special Projects, is Vice-President of Marketing for Christian Women in Media, and volunteer at her church, Gateway, as Intercessory Prayer Leader for Jewish Ministries.