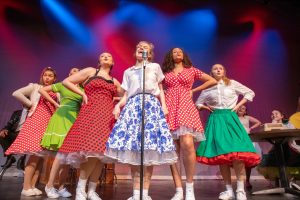 Guyer Theatre has been selected to perform the world premiere for a new musical, A-Wop-Bop-a-Loo-Bop.
Full of 50's favorites we all know, the family friendly musical is a romp through the best of 50's music, according to a news release from Denton ISD. The new Jukebox Musical tells an orginal story based around real events, featuring hit songs such as "Rock Around The Clock," "Jailhouse Rock," "Tutti Fruitti," "Up On the Roof," "The Loco-Motion" and more.
The experience has given students an up-close look at how a new musical comes together, according to the news release. The show was cast in late April, and the students began working on it then, even before receiving the final script and music. New dialogue, music and choreography has been added since, as recently as Saturday.
The show will be filmed and may be used for promotional and documentary materials. It will be published by Music Theatre International, one of the leading publishers of musical theatre, according to Denton ISD.
Performances are June 13-15 at 7:30 p.m. at the Guyer High School auditorium. Tickets are being sold online or at the door for $15; seats are reserved seating only. Click here to purchase tickets online.