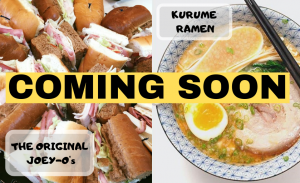 Two new restaurants, The Original Joey-O's and Kurume Ramen, are set to open soon in Flower Mound.
The Original Joey-O's, located at 310 Parker Square Road, is a Chicago-style subs restaurant offering hand-crafted subs, salads and desserts, according to a news release from the town of Flower Mound.
Using fresh ingredients and classic recipes, the restaurant aims to provide diners with an authentic Chicago-style experience. Joey O's is expected to open in May.
Kurume Ramen is coming soon to 6100 Long Prairie Road in Highlands Ranch. The restaurant features traditional Japanese food, specializing in Ramen, Donburi and a variety of Japanese appetizers, desserts and teas.
An estimated opening date has not been announced, as of Sunday.