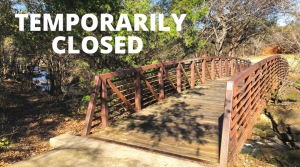 Sections of a trail at the connection of two Flower Mound parks will be closed for the next week or two.
Apex Construction began making repairs Monday to parts of the concrete trail and the culvert bridge where Stone Creek Park connects to Lawson Park, near Princewood Drive, according to a news release from the town of Flower Mound.
"The repairs are necessary to prevent erosion from further undermining the integrity of the trail and culvert," the news release said.
The project is expected to take between one and two weeks to complete, and signs will be posted to alert park-goers that the trail is closed. Residents utilizing the trail to enter or exit Stone Creek Park will need to make alternative plans.